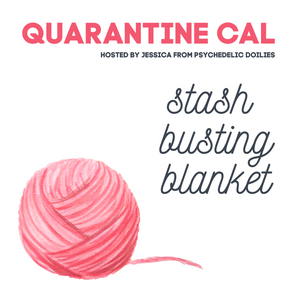 We're all stuck at home with our yarn stash, we might as well put it to good use!
The Quarantine CAL begins Monday April 13th, 2020. We will be creating a stash busting blanket using 6 stitch variations and 6 different yarns.
Every day I will roll dice to determine:
Which yarn to use.
Which stitch to use.
How many rows to crochet. 
Daily prompts will be posted in the Psychedelic Doilies Facebook Group.
With this purchase you will receive one PDF containing pattern and instructions for game play.